National "Take Your Dog to Work Day" was held on June 24. While not all companies allow furry four-legged friends in the workplace, one in every three Fortune 500 companies offers pet insurance from Nationwide® as a voluntary benefit, making it available to millions of employees throughout the U.S.
You care about your pets and consider them members of your family. So whether your family includes kids with two feet or kids with four paws—or both—you know what responsibility looks like.
"Since 65 percent of Americans own at least one pet, two-thirds of employees may be shouldering sizable pet care costs," said Scott Liles, president and chief pet insurance officer for Nationwide. "Offering pet insurance as a voluntary benefit will appeal to prospective pet lovers and help retain current pet-owning employees."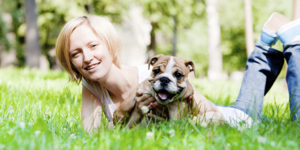 So why not give your pets the best health care available?
The My Pet Protection from Payroll Medics is a suite of pet insurance plans is composed of the only plans specifically designed for employees and gives you superior protection at an unbeatable price, featuring:
All pets are welcome
Affordable protection that offers medical and wellness plans for dogs, cats, birds and exotic pets.
Unbeatable value
Fast re-imbursement and affordable premiums.
Use it anywhere in the world
Members can visit any veterinarian anywhere, whether they go to a pet hospital down the street, a veterinary neurologist the next state over, or a holistic veterinarian overseas.
VetHelpline
Members have free, 24/7 access to a veterinary professional – Only from Nationwide.
It's easy to use
Simple claim filing, convenient 24/7 online account access and award-winning customer care.
Preferred pricing
Employees have exclusive access to preferred pricing on plans not available to the general public.
Peace of mind
Coverage for virtually everything from everyday pet health care to unexpected veterinary bills—all starting at less than $1 a day.
Easy enrollment
Employees can enroll any time of year with a paperless online option or call in to sign up their pet.
If you are a client of Payroll Medics and want to learn more about offering pet insurance as a voluntary benefit, visit https://www.petinsurance.com/payrollmedics.